Posted by GolfBox on 9th Aug 2019
If your Dad is a golfer, your mission to find him a cracking Father's Day gift is just about to get a whole lot easier. These golfing gems, below, are all available at GolfBox and are the perfect way to show the Old Man just how much you appreciate him.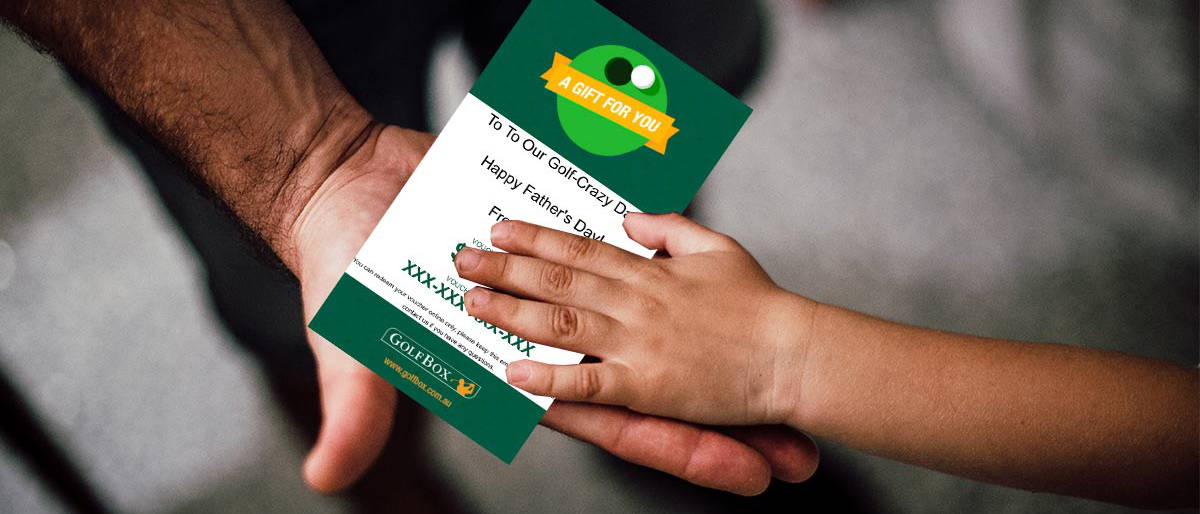 What says Happy Fathers' Day better than a ball that says, well, Happy Fathers' Day?

In a world full of bland and boring golf balls, take the opportunity to make your Dad's golf balls stand out from the crowd this Fathers' Day with a dozen personalised TaylorMade TP5s.
Offering extraordinary feel and performance, the TP5's five-piece construction means your Dad simply won't have the option of blaming the ball for his appalling golf game. Go to golfbox.com.au and in the 'Your text here...' box simply enter up to three lines of text, 13 characters per line, and your message will be imprinted on your Dad's balls forever.
That's Golf Balls, OK?!

A staple for the course, it's no secret a good polo features on the list of clothes dad might want for golf - after all, it beats socks right? All that's left for you to do is pick a style and colour, shouldn't be too hard now should it?
Regardless of whether he's a slim fit, baggy or casual fit; into dark colours that don't draw attention, or the type of guy that emulates Ricky with stand out pastels, we've got you covered with every imaginable variety.
Puma Essential Heather Polos & Greg Norman Mini Jacquard Polos
Callaway 1/4 Zip Merino Sweater
Need another layer? Try adding a knit to the polos - the Callaway 1/4 Zip Merino Sweater will keep him warm til morning breaks and he's in full swing.
---
If you're fed up with hearing Dad moan about his woeful putting, the PuttOUT Putting Trainer will soon have him holing them from everywhere. The PuttOUT not only improves accuracy but its unique curved ramp also hones the other vital putting ingredient: pace.
And if your Dad is the sort of bloke who enjoys knocking out a 5-star Sudoko, he'll be beside himself when he gives the PuttOUT's Micro Target challenge a go: only a putt with the perfect pace and accuracy will nestle in the pop-out hole located a third of the way up the ramp.
Be warned though, he may become a little obsessed when a PuttOUT lands in his lap this Fathers' Day. A useful companion, the PuttOUT putting matt, can also be purchased to make putting practice as real as it gets.

Golf Shoes are an important addition to your wardrobe and there are many things to consider including spiked vs. spikeless, colour, brand and material. Lucky we've got that all covered with our comprehensive range of shoes. Our top three picks are the Ecco Biom Hybrid 3, Adidas 360 Bounce and Skechers Go Golf Elite.

"Investing in a pair of quality golf shoes will do wonders for your game. Have a think about it - if you play 3 times a week every week, a $300 pair of shoes should last you 3 years, and this equates to $0.05 per round."
— Nick D'Avoine, PGA Professional

Nick is one of our golf pros and heads up GolfBox Academy, providing lessons to golfer's of all levels.
Actually, speaking of lessons... Why Not Buy Dad a golf lessons with Nick D'Avoine
Nick is considered to be one of the best coaches in WA, having completed his traineeship at the prestigious Lake Karrinyup Country Club under Graham Warburton and the Australian PGA. Lessons are the perfect way to troubleshoot and improve technique, lower a handicap, or get started if golf is something new.
---
If you know your Dad is a 'gadgets guy' or 'stats guy' or better still, a 'gadgets, stats and golf guy', he'll no doubt be pleased when you present him a Game Golf Live game tracker for Fathers' Day. Game Golf Live uses GPS tracking to monitor and record the details of every shot he plays, for every club in the bag.
Stats such as average distances, accuracy and shot tendencies are calculated and displayed in the free Game Golf smartphone app. After every round your Old Man will soon be drinking from Game Golf Live's font of knowledge as he pores over his statistics. And he'll be forever grateful to you for your foresight in helping him improve his golf game this Fathers' Day.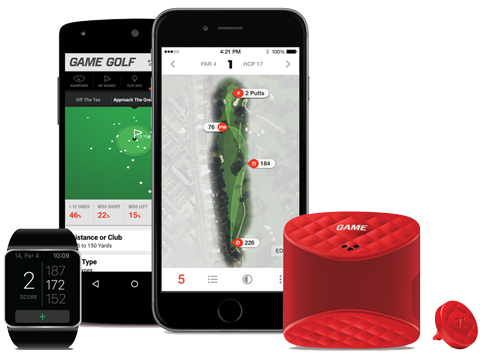 Entry Level Personalised Golf Balls - Happy Father's Day
Your Dad might be a talented Father, even the G.O.A.T., but you'll probably be able to tell if he's a deadbeat golfer.
How will you know?
Well, if he needs a calculator to tally up his score, that's a giveaway. Or if he drones on and on about his four putts costing him yet again, that's another sign he's a hacker.
So for Fathers' Day it's probably best to opt for a dozen personalised entry level golf balls.
They will suit your Dad's game better than the premium TaylorMade TP5 balls.
Stylish and affordable, the Bolle and Oakley range of sunglasses at GolfBox are performance frames packed with technology. Unlike the tech in your dads smart phone, it's all useable. Created especially for golfers, the lenses constantly adapt to the surroundings - unlike some golfer's themselves. The sunglasses come with a carry case, microfibre cleaning cloth and Bolle box.

There is no better way to spend time with your dad than hitting the course together with the hottest new clubs.
The '19 PM Grind wedge was designed to make short game shots easier, meaning more time on the 19th. Sounds good, we know.
Phil Mickelson & Roger Cleveland worked closely together to improve shots for the average golfer like your dad, who when you think about it is probably as old as Roger and Phil... combined.
Buy one of these and you'll regret you didn't buy one for yourself, and as a plus, they look ShMick...
---
Still searching for ideas? Look no further.
Shorts, pants and socks are ideal for the bloke who breezes through 18 holes on the regular and the Greg Norman stretch short is available in a few colours that will keep him looking on point on and off the course.
The Adidas Advantage pant is perfect for the cooler mornings and days, and a hat will keep the sun off his skin and keep him playing more often and well protected.
---

GolfBox Gift Certificates
When your golfing Dad hasn't dropped any significant hints about what he wants this Fathers' Day, it's time to play your trump card and get him a GolfBox gift certificate.
It's a blue-chip choice if you're not sure what to buy him and it's simple: depending on how good a Dad he's been to you lately, nominate the value of your GolfBox gift certificate.
The gift certificate will be emailed to either yourself, or if you prefer, directly to Dad. Yes, your Dad may think he has everything but his mind will be blown when he sees what's on offer at GolfBox.