Posted by GolfBox on 12th Oct 2020
Srixon's reputation for producing some of the best forged irons going around has been hard-earned through decades of experience and development.
Fast-tracking ingenuity simply isn't an option when designing irons; Srixon's new ZX irons are the culmination of progressive thinking and creativity through prolonged persistence.
Srixon irons have always possessed kerb appeal, with their alluring visuals and expert craftsmanship a standout feature over their competitors. Whether it's the ZX7's simple and striking elegance, the ZX5's robust technological prowess or the practical authenticity of the ZX Utility long-iron replacement, all three ZX irons can be mixed, matched and integrated into a full set.

ZX5 irons feature AI-designed face architecture to enhance COR and boost ball speed from a wide area of the club face. The maze of valleys, bumps and channels on the rear of the face was perfected through machine learning to make the irons Srixon's fastest yet.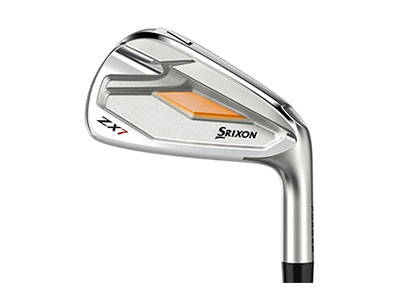 ZX7 irons have mass shifted slightly to the perimeter to add a touch of forgiveness to the tour-level irons. Srixon's tour cavity provides ZX7 irons with the softest feel and highly workable characteristics, which is why they're a favourite on tour.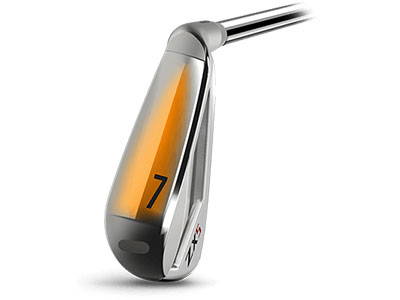 A V-shaped sole improves feel at impact and helps ZX5 and ZX7 irons glide through the turf cleanly, even when striking the ground slightly before the ball. Also making an appearance are Srixon's sole notches, which provide greater workability without impacting forgiveness.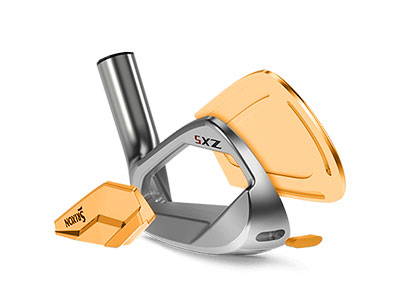 Tungsten in the toe of the ZX5 and ZX7 long and mid irons (3i-7i) increases MOI for more stability and forgiveness. A forged SUP10 face enhances speed and distance while a forged 1020 Carbon Steel body absorbs vibrations for an extremely soft feel.
As Srixon's flag-bearing performance iron, Srixon ZX5 irons are loaded with innovations that make them soft, fast and powerful.
Their forged multi-piece construction features a thin and flexible AI-designed face that enhances speed and distance while a piece of high-density tungsten in the toe increases the ZX5 irons' MOI and stability. A soft 1020 carbon steel body absorbs vibration to improve feel and feedback.
ZX7 irons are the workability workhorses that will be at home in the hands of elite ballstrikers. With their compact head shape, thin topline and narrow sole, they are irons bred with a tour pedigree, for those players who shape and work the ball at will.
Forged from a single piece of 1020 carbon steel, the irons offer a buttery feel and increased stability through the inclusion of tungsten in the toe. A perimeter weighting frame offers some forgiveness while the irons also focus mass on the sweet spot for superb speed from the centre.
The hollow-bodied Srixon ZX Utility irons are a versatile bunch and should prove more than handy in those tricky situations that players face regularly out on the links.
Designed to be a replacement for long irons, ZXU irons provide a straight and reliable flight ideal for those windblown days while also being a trusty fall-back option on narrow driving holes.
High-density tungsten is added to the sole to lower the centre of gravity and provide high launching ball flights while the AI-designed forged face is strong, light and flexible to generate ball speed and distance.
SRIXON ZX IRON SPECIFICATIONS
Australian Ship Date: 09/10/2020
Hand: Right/Left (AW RH only)
Shaft: ZX5: UST Mamiya Recoil 95 (Graphite, R,S), Nippon NS Pro Modus3 Tour 105 (Steel, S,X); ZX7: UST Mamiya Recoil 95 (Graphite, R,S) Nippon NS Pro Modus3 Tour 120 (Steel, S,X); ZXU: UST Mamiya Recoil 95 (Graphite, R,S,X)
Grip: Golf Pride Tour Velvet 360 52g
Srixon ZX5 Iron Lofts: 3:20°, 4: 22°, 5: 24°, 6: 27°, 7: 31°, 8: 35°, 9: 39°, PW: 44°, AW: 50°
Srixon ZX7 Iron Lofts: 3:20°, 4: 22°, 5: 25°, 6: 28°, 7: 32°, 8: 36°, 9: 41°, PW: 46°, AW: 51°
Srixon ZXU Iron Lofts: 2:18°, 3:20°, 4: 23°