Posted by GolfBox on 8th Mar 2021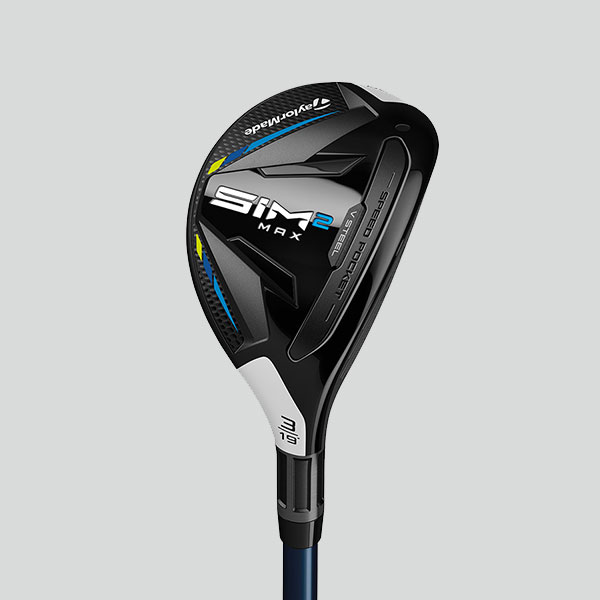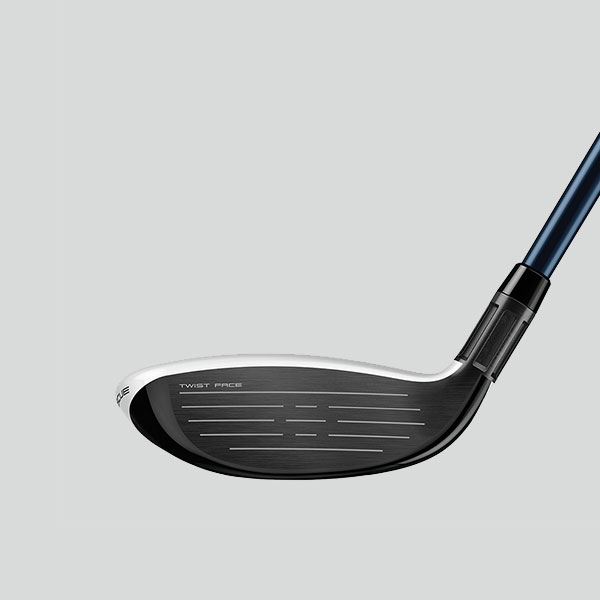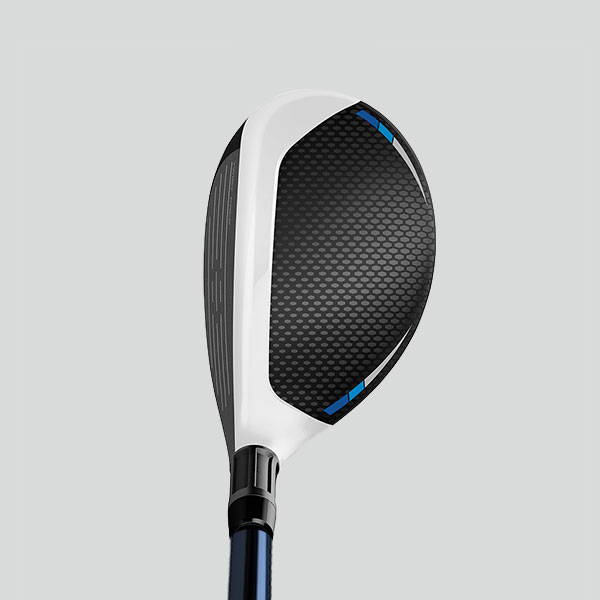 TAYLORMADE SIM2 RESCUE FEATURES

A selection of premium shafts can be fitted to all TaylorMade SIM2 rescues, with custom shafts also available. A Golf Pride Z Grip is fitted as standard. SIM2 rescues also feature an adjustable loft sleeve, which can tune the loft plus or minus 1.5 degrees.
TAYLORMADE SIM2 RESCUE SPECIFICATIONS

Hand: Right/Left
Shaft Options:
SIM2 Rescue: Men's: Mitsubishi Tensei AV Raw Blue HY 80 (extra stiff), 80 (stiff) 70 (regular); Women's: Aldila NV Ladies 45
SIM2 Max Rescue: Men's: Fujikura Ventus Blue 7 (stiff), 6 (regular), 5 (senior); Women's: Aldila NV Ladies 45
Grip: Golf Pride Z-Grip, Lamkin Ladies Sonar, Lamkin Crossline 360 (SIM2 Max hybrid)
SIM2 Rescue Lofts: 2 (17°), 3 (19.5°), 4 (22°)
SIM2 Max Rescue Lofts: 3 (19°), 4 (22°), 5 (25°), 6 (28°), 7 (31°)
SIM 2 Max Women's Rescue Lofts: 4 (22°), 5 (25°), 6 (28°), 7 (31°)
Swing Weights: SIM2 Rescue: D3, SIM2 Max Rescue: D3 (Women's C8)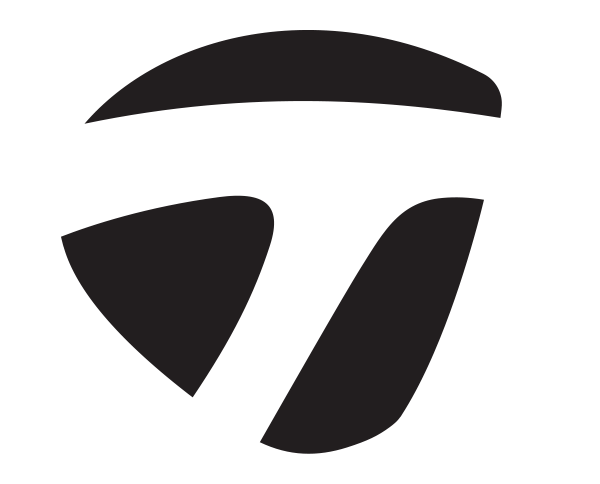 In years to come the TaylorMade SIM2 Max iron line-up will be known as the disrupter that changed the game improvement iron category forever.
Leveraging TaylorMade's formidable metalwood technology with a new Cap Back innovation, SIM2 Max irons set new standards for distance, forgiveness and feel.
With a massive sweet spot capturing more shots than ever before, SIM2 Max irons will have even forged iron diehards taking a close look to make the switch.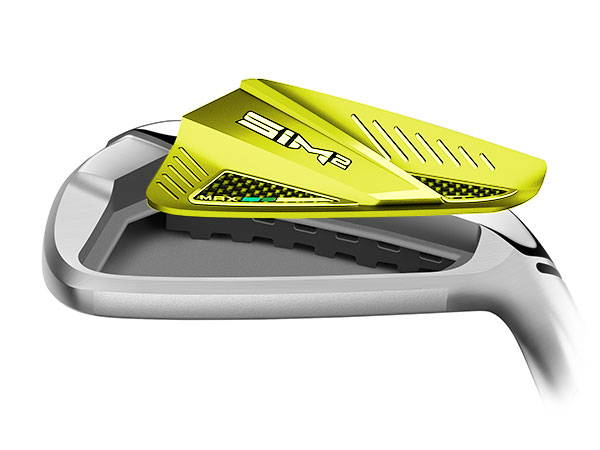 The combination of a lightweight and flexible polymer and a rigid stainless steel frame that supports the topline lowers the CG for distance, forgiveness and a sublime soft feel.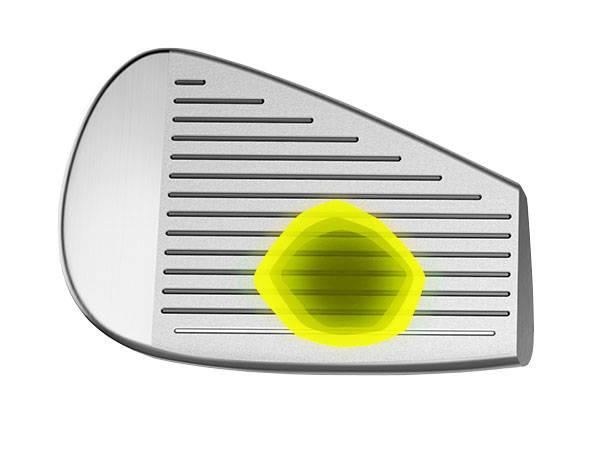 Featuring the most flexible iron face in the game, SIM2 irons are the complete distance iron package with high velocity ball speeds and revolutionary forgiveness for off-centre strikes.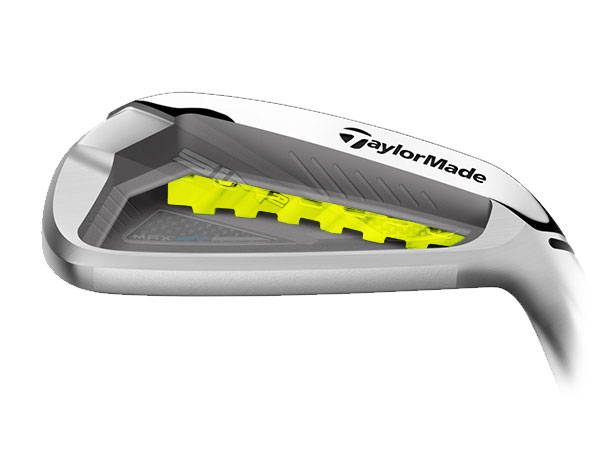 The ECHO Damping system features a new softer polymer that eliminates nasty vibrations via numerous contact points with the SIM2 frame to deliver forged iron-levels of feel and feedback.
TWO TAYLORMADE SIM2 IRON MODELS

The SIM2 iron line-up offers golfers the opportunity to select the iron set that is specific to their playing requirements. Split into two models, SIM2 irons offer the kind of customised performance that is hard to beat.
Not all distance irons are created equal because the new TaylorMade SIM2 Max irons have significantly more feel than their competitors. A flexible 1.5mm thin face and Thru-Slot Speed Pocket work in unison to boost distance for golfers who are consistently inconsistent when it comes to finding the sweet spot. But throw in a new Cap Back design and ECHO Damping system and you've got a side order of feel and feedback to go with distance.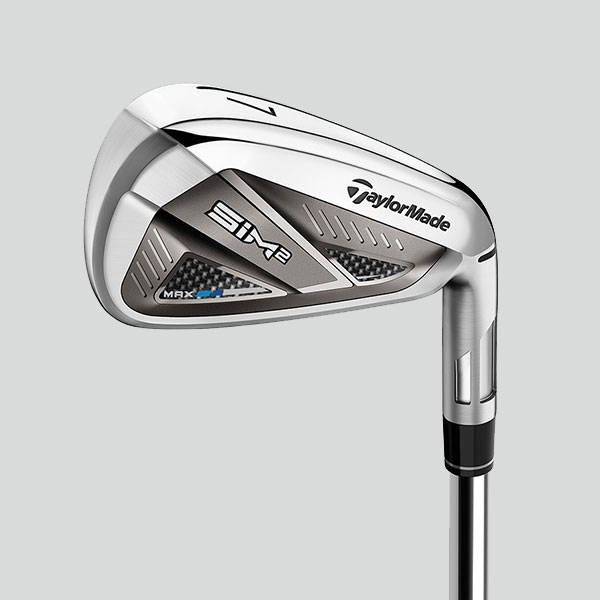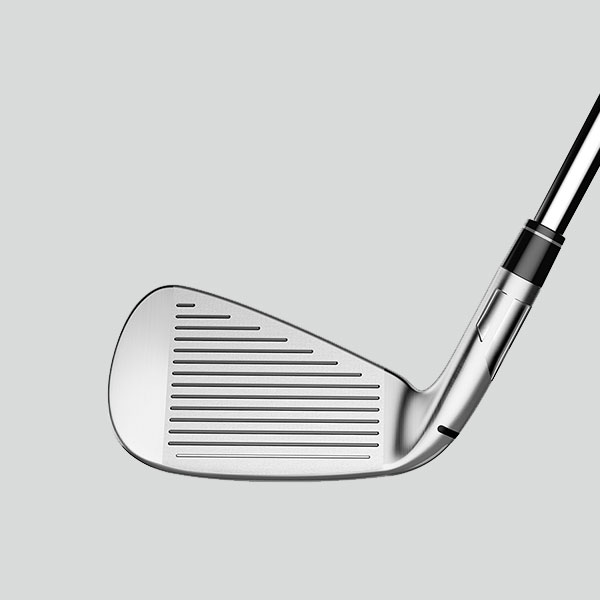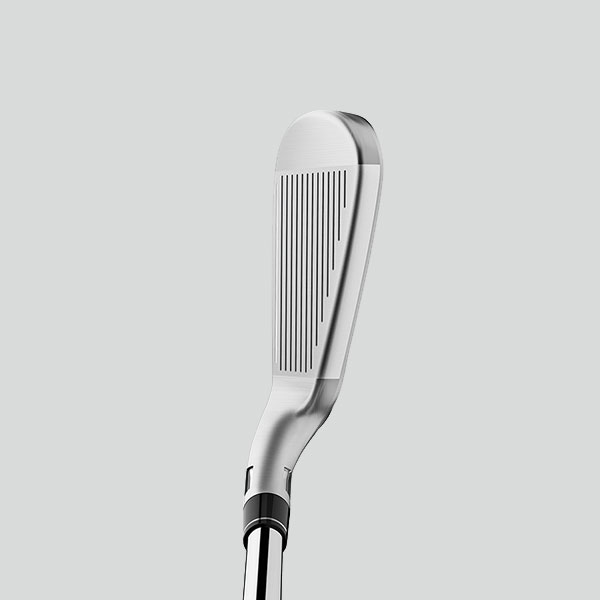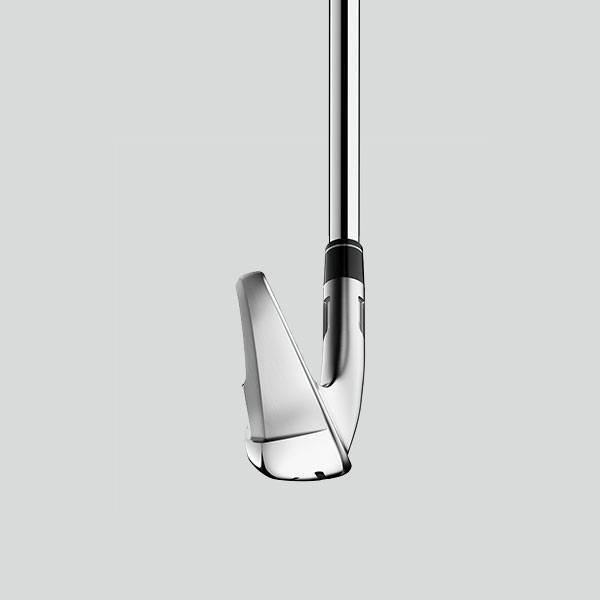 SIM Max OS irons are a slightly larger and more stable version of the SIM2 Max iron but feature all the same distance-enhancing tech goodness. Larger heads, deeper faces and wide soles make OS irons impressively stable while stronger lofts extract more distance in each iron in the set - made possible by the centre of gravity being located deeper and lower for easier launch. They're the longest and most forgiving iron in the entire TaylorMade iron range.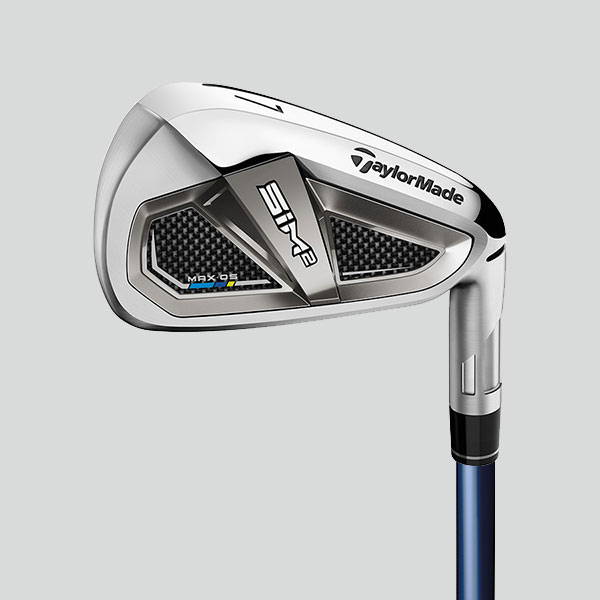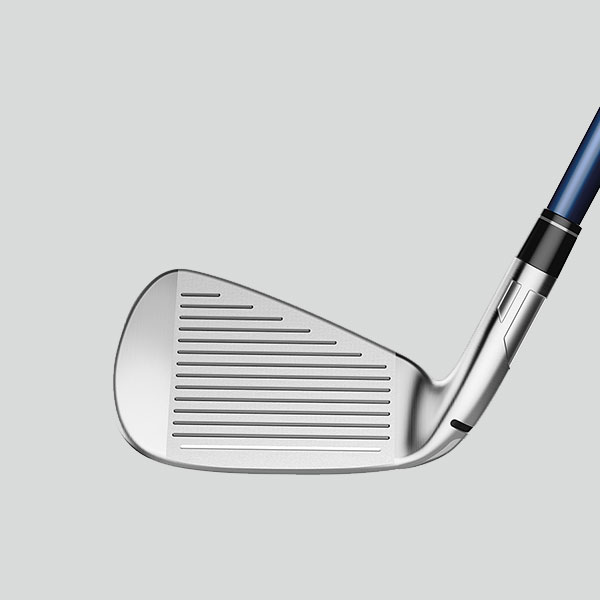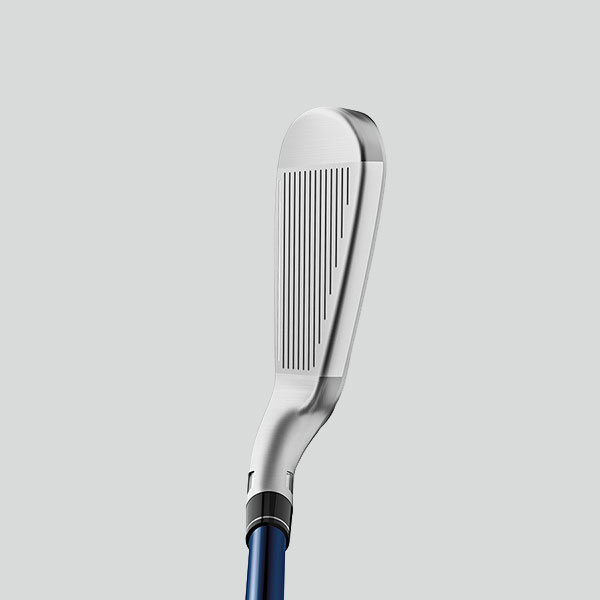 TAYLORMADE SIM2 IRON SPECIFICATIONS
Hand: Right/Left
Shaft Options: KBS MAX MT 85 (Steel), Fujikura Ventus Blue (senior, regular, stiff), Aldila NV Ladies 45 (women's graphite)
Grip: Lamkin Crossline 360, Lamkin Ladies Sonar
SIM2 Max Iron Lofts: 4 (19°), 5 (21.5°), 6 (25°), 7 (28.5°), 8 (32.5°), 9 (38°), PW (43.5°), AW (49°), SW (54°), LW (59°)
SIM 2 Max Women's Iron Lofts: 5 (21.5°), 6 (25°), 7 (28.5°), 8 (32.5°), 9 (38°), PW (43.5°), AW (49°), SW (54°)
SIM2 Max OS Iron Lofts: 4 (18°), 5 (20°), 6 (23.5°), 7 (26.5°), 8 (31.5°), 9 (36.5°), PW (42°), AW (48°), SW (54°), LW (59°)
SIM 2 Max OS Women's Iron Lofts: 5 (21.5°), 6 (25°), 7 (28.5°), 8 (32.5°), 9 (38°), PW (43.5°), AW (49°), SW (54°)
Swing Weights: SIM2 Max: 4-AW (D1 steel, D0 graphite, C2 women's), SW (D2 steel, D1 graphite, C3 women's), LW (D3 steel, D2 graphite, C4 women's); SIM2 Max OS: 4-AW (D1 steel, D0 graphite, C2 women's), SW (D2 steel, D1 graphite, C3 women's), LW (D3 steel, D2 graphite, C4 women's)
Set: 8-PW, plus one of AW, SW or LW