Posted by GolfBox on 5th Feb 2020
Distance irons have always felt and sounded a little clunky compared to their more refined forged cousins.
But TaylorMade's new SIM MAX irons have changed that forever. It's all down to a revised Speed Bridge, a structural beam that links the iron's back bar with its top line, and the new ECHO Damping system.TaylorMade's twin technologies work in unison to produce a soft and direct feel in the new SIM MAX and SIM MAX OS irons that, previously, was never viable in a distance iron. The irons are long and offer premium forgiveness, while retaining consistent spin and launch trajectories and they just might convince forged players to make the switch.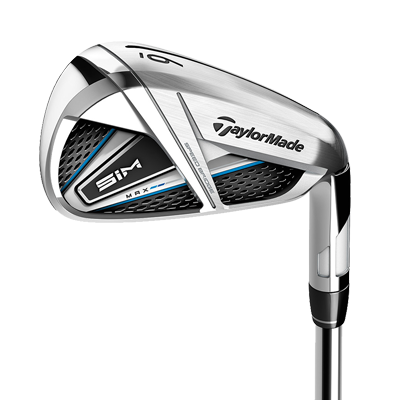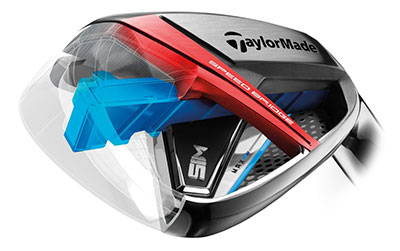 Connecting the SIM MAX irons' back bar with the top line, the Speed Bridge braces the top line to reduce unwelcome vibration and deliver forged iron-like feel.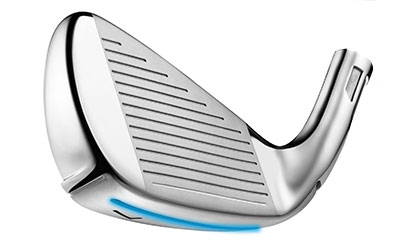 The Thru-Slot Speed Pocket separates the sole from the leading edge to effectively create a free-floating face for extra flexibility. This results in an increase in ball speed and forgiveness, particularly on strikes off the bottom grooves of the face.
Working in tandem with the Speed Bridge, the new ECHO Damping system kills off the rogue vibrations that ruin feel. It wraps around the Speed Bridge and with multiple contact points spread over the entire length of the iron, it delivers forged iron feel and feedback.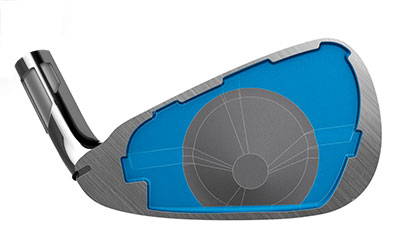 Every iron loft is optimised through TaylorMade's Inverted Cone Technology (ICT), which positions the sweet spot in different locations throughout the set. The short irons have the sweet spot located in the middle of the face to optimise spin and control. In the longer irons the sweet spot migrates towards the toe to produce a slight draw bias.
An all-rounder in every sense of the word, TaylorMade SIM MAX irons are the distance irons that don't feel like distance irons. The ultra-thin and flexible 1.5mm face, Speed Bridge and Thru-Slot speed pocket are the distance-creating engine room of SIM MAX irons.
The increased ball speed makes them long while the large face area increases stability for more forgiveness - the two essential components of a distance iron. And the new ECHO Damping system provides truly exceptional feel and feedback that is on par with forged irons.
Featuring the same technology as SIM MAX irons, the SIM MAX OS packages it up in a slightly larger format that makes the irons easier to launch and extra forgiving.
Bigger heads, taller faces and wider soles increase the stability of the SIM MAX OS irons and allow the CG to be located deeper and lower for easier launch, while strong lofts extract more distance in each iron. The SIM MAX OS irons are the longest in the entire TaylorMade iron range.
TAYLORMADE SIM IRONS SPECIFICATIONS
AUSTRALIAN LAUNCH DATE: February 7 2020
HAND: Right/Left
SHAFT OPTIONS: KBS MAX 85 (Steel), Fujikura Ventus Blue (senior, regular, stiff), Aldila NV Ladies 45 (women's graphite)
Grip: Lamkin Crossline 360, Lamkin Ladies Sonar
SIM MAX IRON LOFTS: 4 (19°), 5 (21.5°), 6 (25°), 7 (28.5°), 8 (32.5°), 9 (38°), PW (43.5°), AW (49°), SW (54°), LW (59°)
SIM MAX OS IRON LOFTS: 4 (18°), 5 (20°), 6 (23.5°), 7 (27°), 8 (31.5°), 9 (36.5°), PW (42°), AW (48°), SW (54°), LW (59°)
SWING WEIGHTS: SIM MAX: 4-AW (D1 steel, D0 graphite, C2 women's), SW, LW (D3 steel, D1 graphite, C4 women's); SIM MAX OS: 4-AW (D1 steel, D0 graphite, C2 women's), SW (D2 steel, D1 graphite, C2 women's), LW (D3 steel, D2 graphite, C3 women's)
SET: 8-PW, plus one of AW, SW or LW